Have you ever found yourself smack dab in the middle of a cliché? Say, for example, you roll your eyes for years about that whole "a way to a man's heart is through his stomach" thing, and then you realize there's an exact correlation between your sons favorite foods and dinnertime declarations of love.
Well then, you'll totally understand this. A few weeks ago, my son started asking me to bake him a "purcan pie" for Thanksgiving. Although I have a favorite pumpkin pie recipe, I hadn't yet found a recipe that recreated the smooth texture of the filling I grew up with. And that's just sad, because pecan pie is my favorite pie ever. And my son's, apparently.
And so, I got to baking . . .
. . . and baking . . . and baking. And then I started begging people to take my pie failures home. Turns out, getting the filling right was harder that I thought! You see, where I grew up you absolutely do not put nuts in the filling, and it's tricky to get it firm enough without turning it into a custard.
Fortunately, it was also COMPLETELY WORTH IT. This filling is exactly what I remember from my childhood, and I can't wait to share it with my mom in just a couple of weeks. Sure, I can only eat a tiny slice because it's rather sweet, but that just means there's more to share. I hope your family loves it! Also, don't forget to pick up a pie crust protector before baking day. 🙂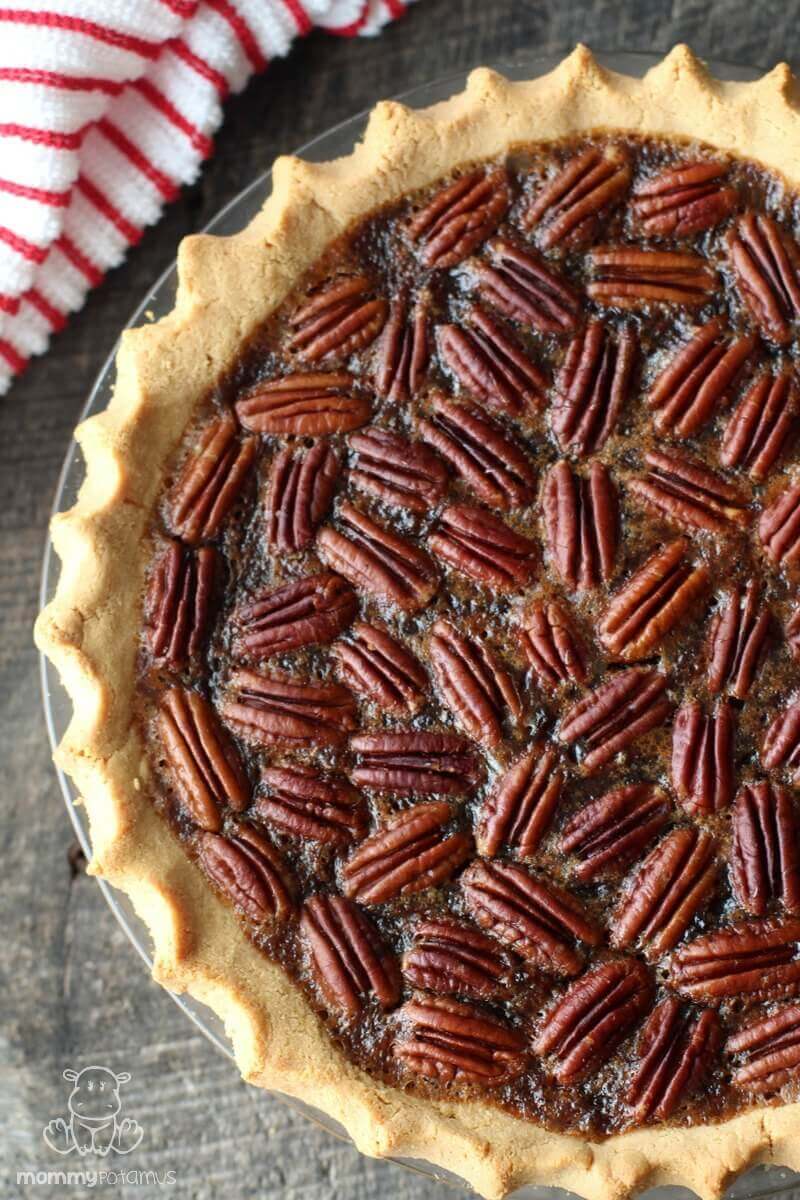 Print
Pecan Pie Recipe (Gluten-free, Grain-free, Paleo)
Instructions
Preheat oven to 350F.
Place butter, rapadura sugar, maple syrup and salt in a sauce pan and melt over medium heat. Bring mixture to a simmer, then stir for two minutes. Set pan aside and allow to cool for 10 minutes.(If you're doubling the recipe, wait 20 minutes because the mixture will take longer to cool.) After the mixture has cooled, whisk the eggs, apple cider vinegar, and vanilla together and then slowly pour them in the sugar mixture, whisking as you go. Pour filling in your prepared pie crust and place pecans on top.
Place pie crust protector around the edge and bake at 350F for 40-45 minutes, or until the center is firm but still jiggly. (Jiggly is a technical term, right?)
Need help making REAL food work in REAL life?
Then I'd love to give you a free copy of my ebook – The Busy Mama's Guide To Getting Dinner On The Table – as a gift for signing up for my newsletter. You'll get my top seven tips for simplifying meal prep, plus updates when I post new healthy recipes, exclusive gifts, coupons (I was able to give away a jar of free coconut oil to anyone who wanted it recently!), and other goodies. Don't miss out!