Paleo Cadbury Eggs. It's coming, y'all. I don't know who will figure it out, but someone will. And while it's sometimes fun to re-create old childhood favorites, my tastebuds long for more.
Something better than a box. Something with soul that reminds me to savor the "fruity, grassy notes" of late harvest olive oil.
Something like The Nourished Kitchen Cookbook, a celebration of butter, lard, heirloom vegetables, meat, milk, grains and fruit. Written by my real-life friend Jenny McGruther of the award-winning blog Nourished Kitchen, this book is unlike anything I have on my bookshelf. (And I have, um, a few cookbooks)
With over 160 traditional foods recipes and tutorials not featured on Nourished Kitchen, there are a lot of reasons to love this book. Here are mine:
Why I love this book: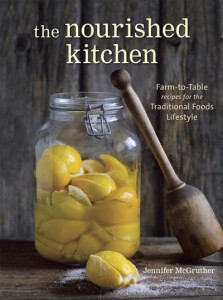 Contagious Passion
You probably love cooking from scratch all. the. time. Me? I find myself in a rut more often than I'd like. As she walks us through how to make bacon (so easy!) or blistered radishes with parsley, Jenny writes in a way that revives my joy of cooking.
Elegant Simplicity
I am drawn to recipes with just a handful of ingredients – there are plenty to choose from in this book!
Recipes That Inspire
This is not fad food. This is the food our great-grandmothers ate, tested and re-tested, bursting with layers of flavor and the special touches that Jenny is known for.
Jenny has graciously given me a recipe to share with you guys today – enjoy!


(Click Here To Order The Nourished Kitchen Cook)
Spring Vegetable Stew
(In Jenny's Words)
After a long winter of heavy dishes—meats, potatoes, root vegetables, and breads—I look forward to the clean and vibrant abundance of spring.
I make this Spring Vegetable Stew with the many firsts that spring brings: the first leeks, beans, peas, and artichokes. They stew together in Chicken Foot Broth, which offers up its delicate but still rich flavor as a companion to the vegetables. At the end, I toss in fresh basil, parsley, and mint, which brighten the stew a bit more with their clean and faintly floral notes. Lemon juice and zest add a punch of sourness that further complements the flavors of the stew.
If you do not have fresh lima beans, peas, and artichoke hearts, you can prepare this soup from frozen vegetables—as I often do in autumn and winter if I've had the forethought to preserve a little of the spring harvest. Keep in mind, however, that if you do make this stew from frozen vegetables, it will not need to cook as long as it does when using fresh ingredients, and can be finished in about 20 minutes start to finish.
Print
Spring Vegetable Stew From The Nourished Kitchen Cookbook
Yield 4 to 6
Ingredients
1 tablespoon lard (where to buy lard) (here's how to render your own lard)
1 tablespoon extra-virgin olive oil, plus more to serve (where to buy olive oil)
1 large leek, white and light- green parts only, thinly sliced
Finely grated zest and juice of 1 lemon
3 carrots, peeled and diced
4 cups Chicken Foot Broth
2 cups lima beans
1 pound english peas, shelled (1 cup)
1 cup baby artichoke hearts, halved
Finely ground unrefined sea salt (where to buy salt)
1/4 cup torn fresh basil
1/4 cup torn fresh mint
1/4 cup chopped fresh flat-leaf parsley
Instructions
Warm the lard and olive oil in a heavy stockpot over medium heat. When the lard melts, stir in the leek and lemon zest and fry until they release their perfume and the leek softens, about 4 minutes. Stir in the carrots and fry, stirring from time to time, until crisp-tender, 5 to 7 minutes.
Stir in the broth, lima beans, peas, and artichoke hearts. Cover and simmer until the vegetables become tender, about 30 minutes. Season to your liking with salt, stir in the herbs and lemon juice, and serve.
Print
Chicken Foot Broth
Ingredients
3 pounds chicken feet, scrubbed very well
1 yellow onion, chopped
1 large leek, root tip removed, white and green parts thinly sliced
4 ribs celery, chopped
3 carrots, chopped
1 tablespoon whole black peppercorns
2 sprigs thyme
6 to 8 sprigs flat-leaf parsley
2 bay leaves
1/4 cup white wine
4 to 6 quarts cold water, plus more as needed
Instructions
If necessary, peel away and discard any yellow membrane that adheres to the chicken feet, then chop off the claws. (The process of defeathering chickens often removes that yellow membrane; however, if it remains, it---and the talons---can create off flavors in the broth.)
Combine the chicken feet, onion, leek, celery, carrots, peppercorns, thyme, parsley, bay leaves, and wine in a large, heavy stockpot. Cover the chicken feet with the water. Bring to a boil over medium-high heat, then immediately decrease the heat to medium-low, cover, and simmer for 8 to 12 hours, adding water as necessary to keep the feet submerged. From time to time, skim away any scum that might rise to the surface.
Strain the broth, discarding the solids, then pour it into jars, cover, and store it in the refrigerator for up to 1 week or freeze it for up to 6 months. With chilling, the broth should gel enough that it must be scooped out of the jar with a spoon. This is normal, and the broth will liquefy once you heat it. A thin layer of yellow fat may harden on the surface of the gelled broth; I recommend discarding this fat, as it doesn't lend itself to cooking.
Photos reprinted with permission from The Nourished Kitchen written and photographed by Jennifer McGruther (Ten Speed Press, © 2014)