Here's what we're eating today . . .
Peach Pie Smoothie
2 tbs SP Complete
2 tbs Whey Pro (optional)
1 cup peaches
1/2 cup banana
1/8 tsp cinnammon
pinch nutmeg
1 Tbs. flaxseed oil
Lunch: Chicken Salad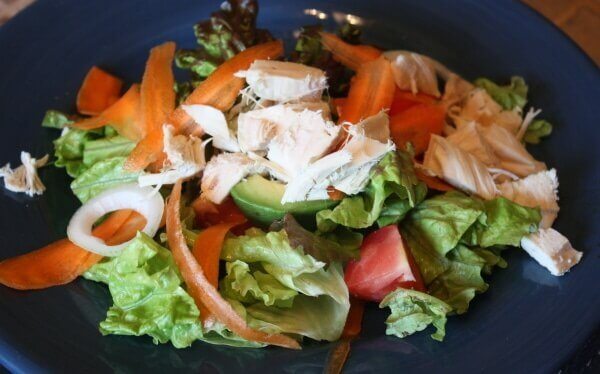 Dinner: Thai Lemongrass Chicken Soup
Ingredients:
1 Tbs butter or oil
3.5 cups thinly sliced leeks or coarsely chopped onions
7 cups chicken broth
3 pounds chicken
3 large ribs celery, cut into 1 inch slices
4 large carrots, peeled and cut into 1-inch chunks
1/2 cup cooked brown rice
2 large bay leaves
2 stalk fresh lemongrass (we didn't have any so we substituted lemon zest)
1/4 cup cilantro
salt to taste
1.5 lbs fresh spinach, trimmed, chopped, and thoroughly rinsed, or two 10 oz packages frozen chopped spinach
4 to 5 Tbs freshly squeezed lime juice
Instructions:
Over medium-high heat, heat the butter in a large pot and add leeks, celery and carrots. Saute for 5 minutes and then add chicken broth. Bring to a boil and then simmer on medium heat until veggies are slightly tender (about 5-7 minutes). Turn heat to low and add cilanto, lemongrass and spinach. Add cooked chicken and cooked rice. Salt to taste.