Pretty soon life will be all about freshly-sharpened pencils, new packed-lunch ideas for our weekly homeschool meetup, and pumpkin spice lattes, but for now I'm savoring buckets of cucumbers and summer squash . . .
splashing in the creek . . .
. . . and of course the quintessential late summer fruit that is also a vegetable – the watermelon.
Now, I'm not really a fan of plain watermelon (I know, weird), but I absolutely adore sipping this limeade on a hot, sunny day. Sweet, tart and refreshing, it pairs beautifully with laughter, good conversation, and water of any kind – be it the sea, a pool, or a sprinkler.
Oh, and just like this ice cream, it has a grown-up option. Add in a little organic tequila for a smooth, yummy weekend treat. (Seriously, though, it's amazing on its own. I tested the recipe with tequila because I thought you might ask, but I prefer mine without.)
Oh, and if you have some watermelon left over, make up a batch of watermelon mint popsicles. The recipe could not be easier – just three ingredients – and they're so delicious!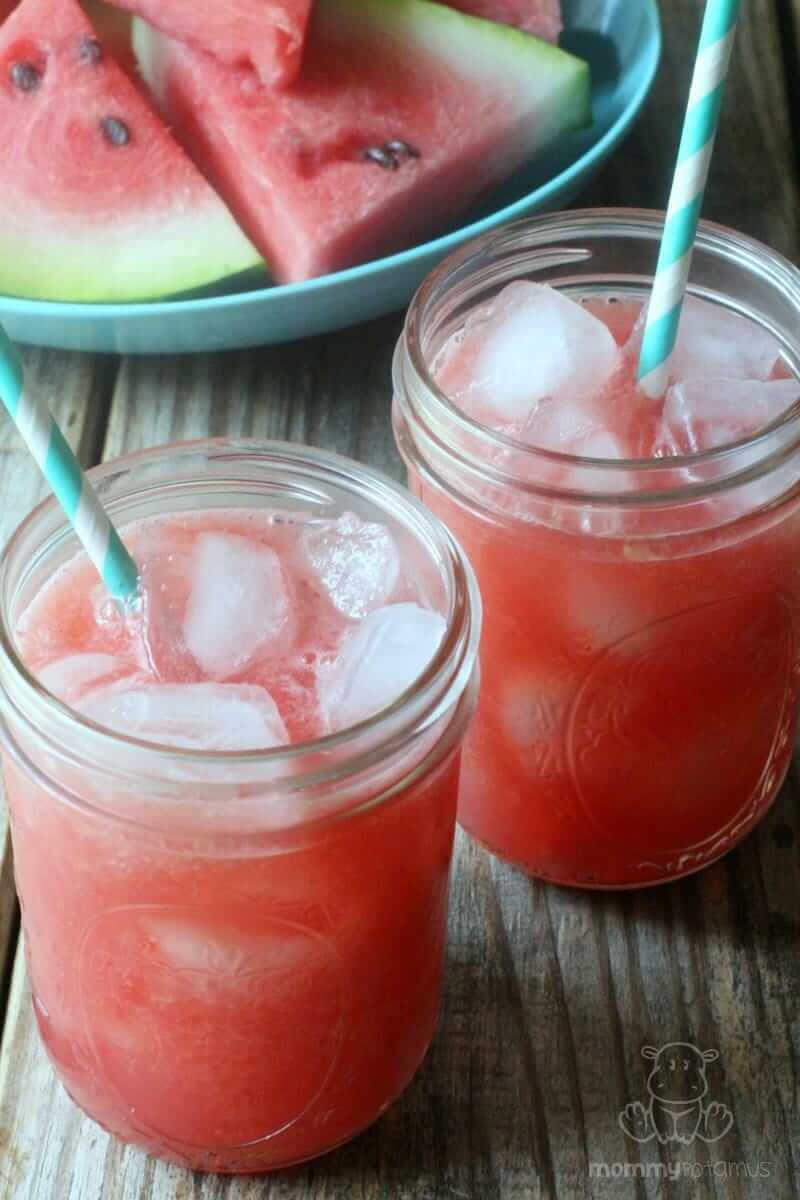 Print
Watermelon Limeade Recipe
Ingredients
4 cups cubed, de-seeded watermelon (should be about 2 cups after it is pureed)
3/4 cup lime juice
2 tablespoons honey or maple syrup, or more to taste
Instructions
Place all ingredients in a blender and puree until smooth. Pour over ice and serve.
Want more refreshing summer drink ideas?
Here are a few of my favorites:
1. Watermelon agua fresca – Agua fresca is Spanish for "fresh water" – it's typically made with a variety of fresh fruits (and sometimes vegetables).
This version is made with watermelon, cantaloupe, and fresh mint leaves. It's easy to make in big batches and is a big hit on hot days.
2. Homemade water kefir – Fizzy and sweet and rich in kid-friendly probiotics, this is one of my favorite ferments!
3. Dairy-Free Frozen Mocha Cappucino – Love frappuccinos but not the corn syrup, food dyes and preservatives used to make them? This recipe makes a copycat version using real ingredients.
Could you use $60 in FREE organic groceries?
I love sharing new recipes and exclusive deals with you, so let's stay in touch! To thank you for signing up for my newsletter, I've partnered with Thrive Market to give you a total of $60 off your first three purchases – i.e. $20 off each order.
If you're not familiar with them, Thrive Market is basically Whole Foods meets Costco, delivered directly to your door. They're on a mission to make healthy living affordable by offering wholesome food and non-toxic products for less than you'd pay in traditional retail stores. Fill out the form below to claim your free groceries!