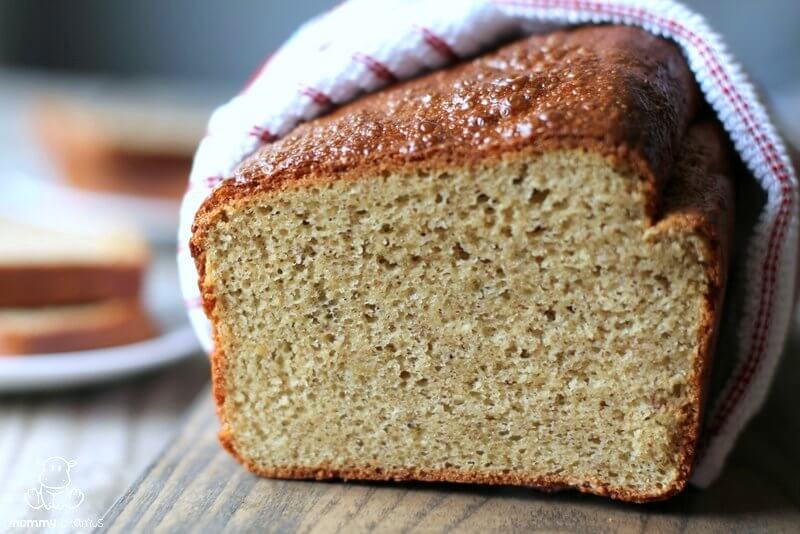 Maybe you've guessed by now, but that's a magic number in my kitchen. Ten minute strawberry jam. Ten minute egg drop soup. Ten minute citrus gummy snacks. (Actually, those only take five.)
And now, oh-my-goodness-this-can't-really-be-paleo bread in just ten minutes of hands-on time. We're talking soft and pliable, pile on the salami, double decker sandwich bread.
Seriously. 
It's from Ditch The Wheat, a new cookbook from my real-life friend Carol Lovett. Now maybe I'm partial because it features some of the Potamus farm girls . . .
But I LOVE this cookbook, and I know you're going too as well. As it says in the foreword (which I had the privilege of writing), Ditch The Wheat
Here's a little bit about it from the forward, which (oh hey!) I wrote:
Carol's recipes give back so many of the favorites that are often given up on a healing journey – bagels and bread, lasagna, chocolate cake and more. They answer the question "What can I eat now?" with "Everything!" Yes, even if you're busy or inexperienced in the kitchen.

I chopped, sautéed, and baked my way through this book with three lively children whirling around me, moving my bowls and whisks and asking philosophical questions about Legos. Even so, each recipe came together beautifully."
Ditch The Wheat is an invitation to pleasure—in both cooking and eating. So many of the recipes you'll find in its pages are now staples in our home. I won't spoil the surprise by telling you which ones, because this is most definitely an adventure you need to take for yourself.
Click here to grab your hot-off-the-press copy

Print
Paleo, Gluten-Free Bread
Yield 1 loaf
Ingredients
7 large eggs
1 cup unsweetened almond butter
½ cup arrowroot starch
½ cup tapioca starch
¼ cup coconut oil
3 tablespoons raw honey
2 teaspoons cream of tartar
1 teaspoon baking soda
½ teaspoon fine sea salt
Instructions
Preheat the oven to 375°F. Line an 9 by 5-inch loaf pan with parchment paper.
Using a stand mixer, mix all the ingredients together.
Pour the batter into the loaf pan.
Bake for 50 minutes or until a toothpick comes out dry.
Allow the bread to cool in the pan for 10 minutes, then remove them from pan and cool on a cooling rack.
Let the loaf cool completely before slicing.
Store bread at room temperature in an airtight container for up to 2 days, or pre-slice the bread and freeze.
Courses Grain-Free Breads
Need help making REAL food work in REAL life?
Then I'd love to give you a free copy of my ebook – The Busy Mama's Guide To Getting Dinner On The Table – as a gift for signing up for my newsletter. You'll get my top seven tips for simplifying meal prep, plus updates when I post new healthy recipes, exclusive gifts, coupons (I was able to give away a jar of free coconut oil to anyone who wanted it recently!), and other goodies. Don't miss out!