Hey y'all! Each weekend I share a useful tip, insight, or recipe from a book I'm reading. As you might imagine, I get a TON of books to review every month. It's about time I start sharing the best of the best with you, so let's get started!
Peace, Love & CHOCOLATE
If you've never been caught in the crossfire of an epic snowball fight on Athabasca Glacier – and then warmed up in a coffee shop over the little slices of heaven locals call Nanaimo bars – you've got some living to do.
Oh, a glacier tour seems a bit logistically, er, impractical right now? No worries, Alison Russo brings the best of the experience to you in her new ebook, The Paleo Sweet Tooth.
This Is Not Your Average Paleo Dessert Book
You guys, this book is unlike any paleo dessert book I've seen before. There isn't a recipe that includes almond flour, coconut flour or even eggs in sight, and yet the pages are filled with everything from REAL fudge and Marzipan to Mexican Hot Cocoa Truffles and Coconut Snowballs.
The photos are gorgeous, and the descriptions so luscious you can almost taste each recipe as you read. Best of all, the recipes are NOT COMPLICATED. Can I get an amen on that?
Each treat from The Paleo Sweet Tooth is:
grain and gluten free
dairy free
refined sugar free (all recipes use either honey, coconut sugar, or coconut nectar)*
egg free
REAL food
* Some recipes call for optional liquid stevia. I personally only use powdered whole leaf stevia, so I used the other options given in each recipe.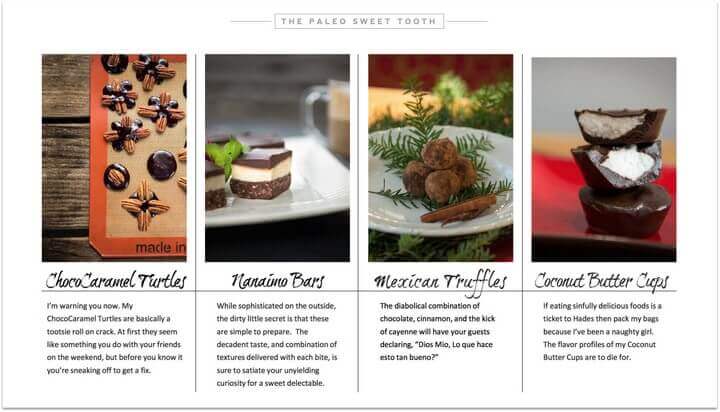 And now, the paleo chocolate recipe!
Alison calls this paleo chocolate recipe "Chocolate Mortar" because it forms the foundation for other recipes in the book: Salted Caramel Cups, Mochamellows, and Coconut Butter Cups (pictured above). It's delicious on it's own, too!

Homemade Paleo Chocolate (Aka Chocolate Mortar)
From The Paleo Sweet Tooth, Yields: 8 oz. chocolate
Print
Homemade Paleo Chocolate Recipe
Instructions
Melt coconut oil over LOW heat. Add honey and whisk briefly until dissolved.
Whisk in cocoa powder (see pic #1).
When you start to see a gloss form (see pic #2), remove from heat and whisk until smooth and glossy (pic #3).
Add vanilla and whisk briefly. If chocolate is not sweet enough, add a few drops of liquid stevia to reach desired level of sweetness
Spread thinly on a silpat and refrigerate. Break into pieces and serve. Or, use in another recipe.
Looking for more paleo chocolate infused recipes?
Here are a few of my favorites:
Could you use $60 in FREE organic groceries?
I love sharing new recipes and exclusive deals with you, so let's stay in touch! To thank you for signing up for my newsletter, I've partnered with Thrive Market to give you a total of $60 off your first three purchases – i.e. $20 off each order.
If you're not familiar with them, Thrive Market is basically Whole Foods meets Costco, delivered directly to your door. They're on a mission to make healthy living affordable by offering wholesome food and non-toxic products for less than you'd pay in traditional retail stores. Fill out the form below to claim your free groceries!